We incorporate our young people into our liturgical life, in one-on-one formation, and inter-generational gatherings.
An experience of immersion in Christian community during childhood, is one of the predictors of the likelihood of a person embracing an active life of faith as an adult. Such immersion happens most intensely at a setting such as Camp Cross, the center of our diocese's youth ministry on Lake Coeur d'Alene. St. Mark's regards this as so important a piece of faith development that we ensure each of our youth have access to Camp Cross, regardless of the family's ability to pay.
Some youth enjoy being part of our ministries of service such as the summer Weekend Food for Kids, and the Care Center Ministry. Others serve in liturgical ministries as Lectors, Sacristans, and Greeters.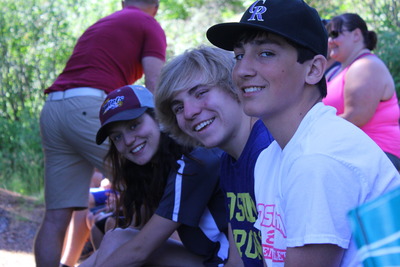 Twice a year we re-evaluate, see where our energy is, and how many folks are interested in meeting together formally.
Throughout the year, we enjoy together our ministries that integrate our members in worship, service, and fellowship, regardless of age.
We encourage our families to explore the resources offered at Grow Christians and at Vibrant Faith at Home—helpful material for enriching our faith practices at home.